Capon Springs is an all-inclusive resort in rural WV, about two hours from Washington DC (90 minutes from Washington Dulles International Airport). The resort features a golf course, spa, beautiful hiking, and best of all: no wifi in the rooms.  We eat three meals a day together in the communal dining hall, where the talk of music is exceeded only by the talk of pie. Food is served family style using traditional recipes that the resort has been serving for years, but they will make every attempt to cater to special dietary needs.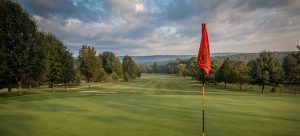 Capon Springs feels like stepping back in time to another era. It is an old school resort where everyone is treated like family. The day starts with flag raising before breakfast. Meals are served family style. There is an 11pm curfew and, although you are welcome to drink alcohol on your porch, there is nowhere to buy a drink at the resort. Everything is on the honor system. It is strange by modern times but, after a day or so, most people fall in love with the place and keep coming back over and over. In one of the other music retreats we present at the resort, 90% of the attendees are returning from last year.
The Mountain Songwriting Retreat is happening the week prior to the Mountain Recording Retreat, a similar program focused on music recording.
If you want to know a little more about what a retreat at Capon Springs is like, check out what people had to say about the Mountain Recording Retreat in this video.